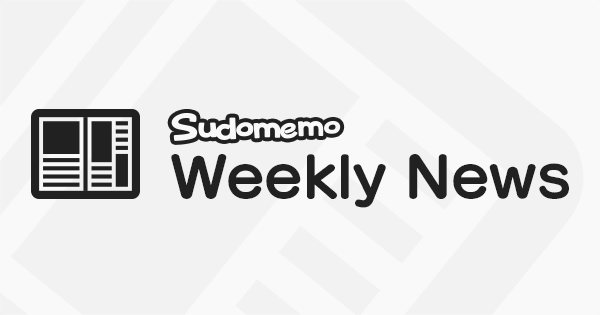 Happy Birthday, Sudomemo!
This is Sudofox, and I'm glad to announce that today (January 29th, 2019) is Sudomemo's fifth birthday! Five years ago, I was a just another high school student with a fun little side-project. Not once did I imagine that my little hobby project would grow into the community it's become. Many mistakes, successes and 1.5 million Flipnotes later, we're here and getting ready to make 2019 better than ever as we usher in the Year of Flipnote!
But first, for our Weekly Topic results.
Our Favorite Flipnotes from Weekly Topic - "A Perfect Day"
I bet we can all agree that
OddTier
's idea of a perfect day would be a great day for all of us.
Daeloth
made this heartwarming flip about sleep and family time, what else could you ask for? Super Smash Bros and some Flipnotes, the perfect combination by
むらまっちゃ
. Morning coffee, cats, and Splatoon 2, the perfect recipe for
Slorf
's ideal day. A great Flipnote by
KevClips☆
, who wouldn't want to be the king/queen of the world for a day?
This Weeks Topic - "Five Years of Flipnote Fun"
We'd like to hear from you about your favorite times on Sudomemo over the past five years. The friends you've met, the fun times you've had, how you've grown, and where you are now!
Sudomemo's Fifth Birthday Party
Join us as we celebrate Sudomemo's fifth birthday! While Flipnote Hatena ran from December 2008 to the end of May 2013 (four years, five months), Sudomemo has been running since January 29th, 2014! We are throwing a symbolic party over the next seven days to celebrate Flipnote and spread the word!
Sudomemo was originally opened on January 29th, 2014. Five years later, Sudomemo has completely outlived Flipnote Hatena's original lifespan, and we're throwing a birthday party to celebrate, starting on January 29th! Anyone who's part of it will get some special codes that will be redeemable for prizes at a later time, so don't miss out!
We need your help to make it a smash success, though! The goal is to bring the rest of the world's mind back onto Flipnote.
- Share your Flipnotes onto your social media, so that other people see them! This is the best possible thing you can do to support Sudomemo. The views count towards your ranking as well, so take care to use an engaging description!
- Know someone from Hatena, or who used to use Sudomemo? Invite them back -- we hope they are pleasantly surprised!
- Please share our social media posts from @sudomemo on Facebook, Instagram, or Twitter. We've put a lot of work into them and we'd like people to see them!
- We have a Facebook event here: To join in, visit flipnot.es/5bdayparty (Facebook event) for details and to mark yourself "going". You do not have to join to participate, but it's something you can use to share if you'd like.
- All Sudomemo users who post Flipnotes between today and the end of Monday, February 4th, will receive a reward and a special badge when we roll out our upcoming badge system.
Introducing the Year Of Flipnote
We're working on bringing the greater Flipnote community back to life! With a number of new things planned for this year, we hope you will be here with us as we strive to make 2019 the "Year of Flipnote"! Not only are we planning on bringing back all of the old Flipnotes from both Flipnote Hatena and Flipnote Gallery: World to view and share online, we hope to draw the attention of everyone who formerly used Flipnote Hatena as well as those who never had the chance as we celebrate the culture and creations that have played such a large part in each of our lives.
We'll announce more details and promotional programs as time goes on -- stay tuned!
Updates To Sudomemo
Sudomemo Creator Rankings
We're glad to introduce new Sudomemo Creator Rankings! These rankings come from your recent popularity and activity. You can view your ranking on Sudomemo Theatre; it will be visible on the DSi in a future update! (We are using the old ranking icon to denote citizenship, and will need to replace it first.)
New Details on Sudomemo Theatre
We added several cool sections to your Sudomemo Theatre profiles! They are: - A list of the different countries you've received Stars from.
- A preview of some of your recent fans
- A list of your Flipnotes which have recently received comments
- A list of the channels you post to most often
Channel Browsing on Sudomemo Theatre
You can now browse through Sudomemo channels on Sudomemo Theatre! At the time of this article, you can go to a channel by finding a Flipnote in that channel and clicking on the channel name in the details box. We're working on a more comprehensive way to find channels you're interested in, which will be announced when it's ready!
Embedded Flipnote Player Changes
When you share your Flipnotes via Twitter or the HTML embed, a "view on Sudomemo Theatre" button will now appear in the controls.
Sudomemo DNS Troubleshooting
Having issues connecting to Sudomemo, particularly the 20110 error code? We've created a tool to help you determine the cause of the issue. Check it out at this link: https://flipnot.es/dnshelp
New Channels This Week
We've added several new channels this week, all of which where suggested by you.
- Introduction
- K-pop
- Megaman
- Neopets
- Profile Pictures
- SpongeBob Squarepants
- Twenty One Pilots
That's all for this week's Sudomemo Weekly News! See you next week!