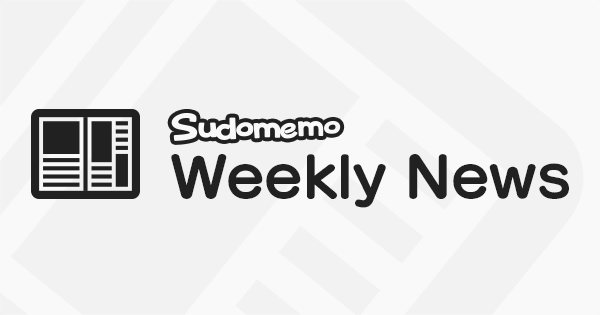 Hey there everyone, DeepRising here with the Weekly Newsletter and Weekly Topic competition.
We had a great response to last week's topic Snails, and a selection of our favorite winning entries are coming up.
But first, we'd like to say a big thank you to all of you who joined in with our Sudomemo Birthday bash.
On the 29th of January this week we celebrated eight years of Sudomemo, both on Discord and with a channel for all of your wonderful, well wishing and best memories Flipnotes.
They were absolutely fantastic, and the party went off with a bang.
We've also recently released the "Flipnote Archive Preview", which currently allows you to view old Flipnotes from Flipnote Hatena on the website if you have an account on Sudomemo with the same Flipnote studio ID.
This is a temporary thing for now, and the release date for the full archive is May 31st 2022.
We'll be posting more info and a Help Center Article about it soon, as well as making some changes so that you can toggle it on or off your profile with the use of a new button in your creator's room.
And now back to the topic.
If you're thinking about making a topic Flipnote, don't forget to check out next week's topic theme and it's description, as well as the subsequent Upcoming Topics listed at the end of the Newsletter.
And now, here are the winning Flipnotes from last week's topic "Snails". Well done to everybody who entered.
Our Favorite Flipnotes from last weeks Topic "Snails"
In our first topic winning Flipnote this week, by geezer, the classic fable of The Tortoise And The Hare is given a fresh new spin in the form of The Tortoise And The Snail.
We're sure that slow and steady will triumph in the end, but look at that snail go!
What a boy racer!
The ultimate war between television shows is about to kick off!
The contenders, Bird-Up, until now the undisputed worst show on TV, versus the new and highly anticipated arrival Snail-Down!
But which of them will win the coveted title?
Checkout this zany, mad-cap creation, by ⒷIⒷⒷⒶ to keep up with the results as they come in.
Our second selection this week, by RYU-Sempai features another epic race. This time between a human and a snail. And there's absolutely no question as to who the winner is on this occasion.
The snail not only laps the opposition, but passes the finish line well before his opponent has even left the blocks.
That's a gold medal for the molluscs right there!
MrToons_3 has parodied the animated movie Cars with this energized, snail racing, winning topic entry starring Turbo.
Not only does he have a catchy motto, but he eats losers for breakfast.
How can he possibly lose?
An average table top snail race turns into a record breaking event, as the spiral shelled critter disappears in a cloud of his own dust, in this hilarious topic winner by MikeSudo77.
The snail is in actual fact very slow, as seen in this weekly topic winning entry, by Casjin.
But wait, if you watch right to the end there's a funny Flipnote finale.
Can you guess what it is?
Here's a clue. It's accompanied by a strong camera shake. (Chuckle)
This Weeks Topic - "Throwing"
There's many varied techniques of throwing, and many different things that can be thrown.
With regard to what could be thrown in your Flipnotes, it could be absolutely anything at all.
From the ridiculous to the impossible, in cartoons the more outlandish it is the better!
Why not a grand piano, a custard pie, or an elephant?
The choice is entirely yours!
But if you'd rather go the more traditional way with a ball throwing animation, there's a great deal of possibilities there as well.
Under or overarm, here's a list of sports with differing throwing actions:
Baseball - overarm pitch / Cricket - overarm bowl / American football - Quarterback throw / Basketball - Bank shot, pass / Tennis - overhead toss.
Anyone of these would be great as an animation.
Or how about athletics Flipnotes?
Here's a list of track and field disciplines involving throwing:
Shot Put / Discuss / The Hammer / Javelin
They all have very different throwing styles.
So why not throw a few ideas around, and pitch us a Flipnote for this topic today.
We really love the way you're all so creative with these topics and look forward to seeing the Flipnotes you create for them.
Make sure to post your entries to the Weekly Topic channel Weekly Topic - Throwing and the deadline for your entries is February 6th (12pm EST / 4pm GMT).
Also, we would encourage you to add a description to your Flipnotes. This is your opportunity to explain any points of interest and specific details that we could feature in the topic winner reviews.
And don't forget, if you want a cool thumbnail picture on your Flipnote, whichever frame you save the Flipnote on, that will become the thumbnail. So choose your favorite frame for this, or add in a cool title page at the end, and save on that.
Keep on Flipnoting and the best of luck with your entries.
Upcoming Topics
Topic - Wallace And Gromit (February 6th)
Topic - The Mouth (February 13th)
Topic - Planets (February 20th)
Topic - Melting (February 27th)