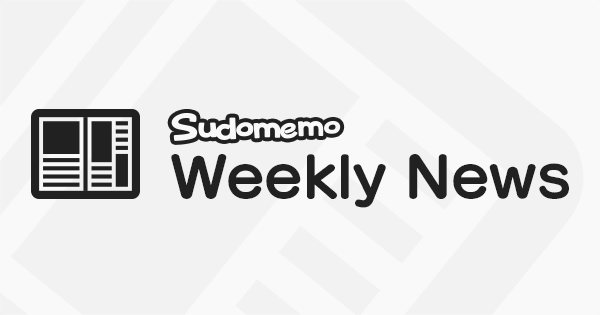 Hey there everyone, DeepRising here with the Weekly Newsletter and Weekly Topic competition.
We had a great response to last week's topic "Accident Prone", and a selection of our favorite winning entries are coming up.
But first, if you're thinking about making a topic Flipnote, don't forget to check out next week's topic theme and it's description, as well as the subsequent Upcoming Topics listed at the end of the Newsletter.
Also, don't miss the links in the topic description for inspiration and further information on the theme (Access these links through the Sudomemo Theater online site).
And now, here are the winning Flipnotes from last week's topic "Accident Prone". Well done to everybody who entered.
Our Favorite Flipnotes from last weeks Topic "Accident Prone"
Our first topic winning selection this week, by Hi :) mixes together accidents, word play, and a very modern method of package delivery.
Cleverly entitled "Accident Drone", it's expertly animated with a great character, a painful step-slip, and a cool looking robot-delivery-drone.
Both a twist on the topic, and the topic itself!
Very nicely done!
Our next winning selection, by ⒷIⒷⒷⒶ features the team efforts of a skilled block-stacker and his high spirited feline friend.
It's all going perfectly to plan, but then suddenly there's a table-catastrophe, and it all comes crashing down!
This inventive accident prone idea comes with its very own catchy jingle. And just like us, we bet you'll be singing it for the rest of the day.
"Oh no, our table, it broke!"
In this splendid topic winning entry by MikeSudo77, a computer game character called Vibri explains the nature of slapstick humor through a mockumentary style comedy Flipnote.
But with an ironic turn, the demonstrations lead to a series of hysterical, accident-prone pratfalls that will have you in stitches with laughter.
Simply terrific!
The hapless individual in this winning Flipnote, by scronin is the very definition of accident prone.
He's just innocently taking a break, keeping himself to himself, when all of a sudden an anvil falls right on his head!
Oooooooooh!
Now that's gonna need a band-aid.
One of the most common accidents to have is the stubbing of a toe.
And しるとこん knows just how painful that can be, as we see in this tearful entry, starring its very own creator.
"Ouch!" That looks really painful!
(Warning - Graphic toe stub occurs at frame 16)
This hilarious tale of an accident prone stick man by nombre mio sees him repeatedly visiting the hospital because of one disaster after the next.
Unluckily for him though, the hospital is also not a safe place.
Aaaaaaaaaaaggghh!
In this colorful creation by Pen, the creator's profile character is extremely accident-prone.
He's hit full in the face by a ball, poor chap.
Why not play it on a loop. It will knock him for six every time!
This Weeks Topic - "Ten Pin Bowling"
In Ten Pin bowling, the aim of the game is to knock down all ten pins with just two bowls.
But this can be tricky, as the ball is heavy and a good bowling action can be difficult to get right.
Nevertheless, bowling is a highly dynamic sport with great action techniques if you're good at it, like speed shots, curve balls, strikes, splits and the rarest of all a perfect score!
But there can also be some quite astonishing mishaps from the less skilled bowlers among us.
Check out this video for some great examples of these. https://www.youtube.com/watch?v=IEx7QCnphsI
Your Flipnotes could be about any aspect of ten pin bowling you like. The good, the bad, the ugly, or just the game itself.
Don't end up in the gutter!
Score a strike instead, and start bowling a Topic Flipnote today!
We really love the way you're all so creative with these topics and look forward to seeing the Flipnotes you create for them.
Make sure to post your entries to the Weekly Topic channel Weekly Topic - Ten Pin Bowling and the deadline for your entries is March 27th (12pm EST / 4pm GMT).
Also, we would encourage you to add a description to your Flipnotes. This is your opportunity to explain any points of interest and specific details that we could feature in the topic winner reviews.
And don't forget, if you want a cool thumbnail picture on your Flipnote, whichever frame you save the Flipnote on, that will become the thumbnail. So choose your favorite frame for this, or add in a cool title page at the end, and save on that.
Keep on Flipnoting and the best of luck with your entries.
Upcoming Topics
Topic - Lord of the Rings (March 27th)
Topic - Bending (April 3rd)
Topic - Easter Eggs (April 10th)
Topic - Lions (April 17th)