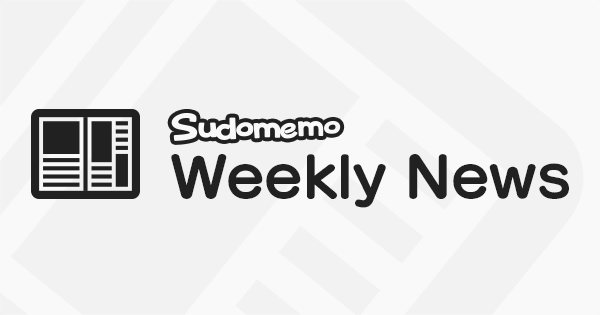 Hey there everyone, DeepRising here with the Weekly Newsletter and Weekly Topic competition.
We had a great response to last week's topic "Easter Eggs 2022", and a selection of our favorite winning entries are coming up.
But first, some exciting news about a brand new audio based idea that we're experimenting with.
Sudomemo radio!
Sudomemo Radio is a new way for Sudomemo creators to express themselves! If you have something fun you want to air or show off, we'd be glad to find a time slot for you! No idea is too crazy!
Comedy weather reports, news articles, interviews, music, adverts, sporting events, or whatever else you can think of. Sudomemo Radio Submissions are now open!
Here's the link for your submissions, in the form of audio files:
https://forms.gle/UXXAtvQ1t4Zqn43b7
Submit your ad, music, or bit for inclusion in the first airing of Sudomemo Radio!
Feel free to submit multiple pieces of content, however you are limited to two pieces of music per person. Submissions are due by end of day Friday, April 22nd, 2022. Not all submissions may be included due to runtime or by Sudomemo staff discretion.
Also, here's a the link to the site on Twitter:
https://twitter.com/Sudomemo/status/1515498331602145281
We're really looking forward to hearing what you all come up with. It should be huge fun.
Now back to the Weekly Topic.
If you're thinking about making a topic Flipnote, don't forget to check out next week's topic theme and its description, as well as the subsequent Upcoming Topics listed at the end of the Newsletter.
Also, don't miss the links in the topic description for inspiration and further information on the theme (Access these links through the Sudomemo Theater online site).
And finally, here are the winning Flipnotes from last week's topic "Easter Eggs 2022". Well done to everybody who entered.
Our Favorite Flipnotes from last weeks Topic "Easter Eggs 2022"
In our first topic winning selection this week, by ★Adison★, a couple of wiley bird dudes, Robbie and Jay, formulate an egg-cellent idea to eat Easter eggs.
However, when their egg-laying pal Chuckie turns up, he doesn't realize that the eggs are all shop bought. And with an uber fainting fit, their celebration is brought to a sudden halt.
This entry is also a pilot for a series it's creator is currently working on, so look out for it.
We can't wait!
It's that time of year, and every child has a chocolate egg all of their own.
However, in this fantastic Easter animation, by JoseManueF, each egg comes with a sting in its tail.
From a scorpion to a skunk, the surprises range from poisonous to extremely smelly.
And don't even think about the Easter Llama!
EEEEWWWW!!!
In our next hilarious winning Flipnote, by Jake, Wacky's mum certainly knows how to celebrate Easter with a true to form, mad-cap egg decorating class.
Taking each stage carefully, step by crazy step, she can't possibly go wrong.
Although the inevitable food-fight when dinner is served could produce some breakages!
Whatever it is that resides on this island, mysterious egg or otherwise, there's no need to order it separately. Your very presence guarantees you will have it.
Such is the unnerving premise behind this spine tingling topic winner by ⒷIⒷⒷⒶ.
"Teeth chattering loudly"
Checkout the amazingly talented Easter Bunny in this topic winning entry by Creaky.
He not only sucks in eggs, but then shoots them back out, beautifully decorated into an Easter basket ready for the celebration.
Now those are some truly egg-tastic skills!
A classically styled Oswald Easter bunny creates some absolutely wonderful egg decorations in this topic winner by Charasime.
The multi-stage process produces a variety of delightful and delicious looking chocolate goodies, all deposited neatly in their finished basket.
Lemmy★RG♪ has come up with a splendid draw, shade, and color of the Easter Bunny tossing a decorated egg into the air, for this entry.
Very nicely done indeed!
We hope he's got a choccy egg for us. "Licking lips"
Kolo_CoB has an Easter lesson to teach us all, in this broadly animated topic winning Flipnote.
Starring a fabulous cycloptic Original Character, the lesson to be learnt here is never touch an unknown Easter egg, however hungry you are.
Because who knows, it just might bite back!
This Weeks Topic - "Lions"
King of all the beasts, the lion is the largest of all the big cats.
Lions live upon the African plains in social groups called prides, where they hunt to survive.
Well known for their sharp teeth and claws, long manes, huge size, and terrifying roars, they are impressive predators and truly magnificent animals.
So why not try drawing and animating one for this week's topic?
Feel free to create realistic lions, cartoon ones, gesture drawings, or any other style or design that takes your fancy.
You might find inspiration in the following movies:
The Lion King (1994)
Madagascar (2005)
The Chronicles Of Narnia (2005)
Born Free (1966)
Also, here's a couple of links to videos about lions.
This one's about lions in the wild:
https://www.youtube.com/watch?v=zobZd8Mp3sk And here's one's about how to draw a lion:
https://www.youtube.com/watch?v=0CI-SUXG2Fk
Whatever you decide creatively, why not bare your animators claws, and start roaring a Lion topic Flipnote today.
We really love the way you're all so creative with these topics and look forward to seeing the Flipnotes you create for them.
Make sure to post your entries to the Weekly Topic channel Weekly Topic - Lions and the deadline for your entries is April 24th (12pm EST / 4pm GMT).
Also, we would encourage you to add a description to your Flipnotes. This is your opportunity to explain any points of interest and specific details that we could feature in the topic winner reviews.
And don't forget, if you want a cool thumbnail picture on your Flipnote, whichever frame you save the Flipnote on, that will become the thumbnail. So choose your favorite frame for this, or add in a cool title page at the end, and save on that.
Keep on Flipnoting and the best of luck with your entries.
Upcoming Topics
Topic - Castles (April 24th)
Topic - Cheese (May 1st)
Topic - Zelda the video game (May 8th)
Topic - Breaking The Rules (May 15th)