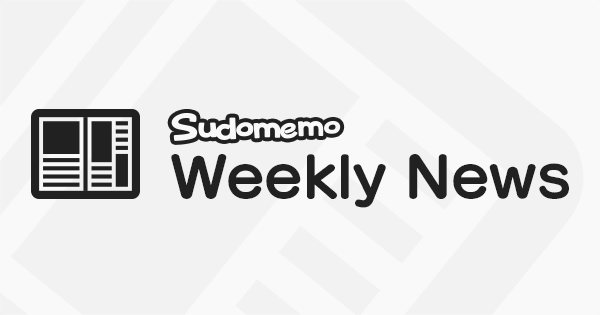 Hey there everyone, DeepRising here with the Weekly Newsletter and Weekly Topic competition.
We had a great response to last week's topic "Cheese", and a selection of our favorite winning entries are coming up.
But first here's more exciting News about Sudomemo Radio.
Sudomemo Radio - Episode Two
We hope you all enjoyed the highly successful launch of the pilot episode of Sudomemo Radio.
We did, enormously. And thanks very much indeed to all of you who entered submission for it.
Here's a link to the episode on Youtube.
https://www.youtube.com/watch?v=SvxYdH_GtUM
And for all you budding radio enthusiasts eager for more, please note that submissions are now open for Episode 2 of Sudomemo Radio.
Here's the link for your submissions:
https://forms.gle/94bYUCvPxLZm3Kd4A
All the details can be viewed on the form, and submissions are due end of day May 18th.
Good luck, and have fun!
.
And now, back to the weekly topic.
If you're thinking about making a topic Flipnote, don't forget to check out next week's topic theme and its description, as well as the subsequent Upcoming Topics listed at the end of the Newsletter.
Also, don't miss the link in the topic description for inspiration and further information on the theme (Access this link through the Sudomemo Theater online site).
And now, here are the winning Flipnotes from last week's topic "Cheese". Well done to everybody who entered.
Our Favorite Flipnotes from last weeks Topic "Cheese"
Our first topic winning selection this week, by iDog is a truly enchanting tribute to the splendor of cheese.
As OC Birb tries her very first taste of the French soft cheese brie, will everything be rosie?
The wheel looks sumptuous and gooey, and the sample is just right for a cheesy bite.
But what will she think?
Mmmmmm, success!
It's a tasty triumph all around.
It's a beautiful day in the park, and it's snack time for a local Pokemon trainer, in our next weekly topic winner by jess☆.
But wait!
Where's her MooMoo cheese gone?
And could the sneaky Minccino hiding behind the bench have anything to do with it?
All wonderfully illustrated, story-boarded and scored, this Flipnote tells its delightful tale with charm, expression and great comic timing.
An angry crowd!
An impassioned demand!
It's got to be a cheesing for sure, in this dramatic weekly topic winner, by naiadskol♥.
However, when the cheeses finally fly, their target, new OC Kiku, is not phased. And the epic build-up, punch-lines ironically as a humorous damp squib!
We just fell about with laughter, when this cheese loving kitty inexplicably gets a slice full in the face, in this hysterical winning entry by ⒷIⒷⒷⒶ.
Expertly animated with lip-synch, actions, and a bonus spiral-stretching neck, the sledgehammer punchline hits its mark every time!
A manic cheese is under no illusions as to his prowess in the field of food, in this zany selection, by blipsoid.
His dairy based tirade is delivered with broad lip-synch and a crazy stare that had us in absolute stitches.
Entitled Of Mice And Cheese, this Steinbeck inspired, classic styled, cat and mouse cartoon, by Jared, features a lightning fast cheese robbery, and a suitably astonished Moggie!
A hungry rat ends up as dinner himself, when he tries to eat Sushi's cheese, in this off the wall, comedy Flipnote by Sushi.
This Weeks Topic - "Zelda The Video Game"
The Legend Of Zelda is an action adventure video game franchise.
The series centers on Link, the chief protagonist and player character. Link is often tasked with rescuing Princess Zelda and the kingdom of Hyrule from the clutches of Ganon, an evil warlord turned demon.
Featuring puzzles, role-play, and action in both above view and full 3-D environments, the exciting game play includes a multitude of different weapons, side quests and great stories that make it a true genre classic.
This topic could be about any aspect of the game franchise that appeals to you, as well as related spin-off media, like the television series and board games.
Why not mix your OCs (Original Characters) with characters from the game?
Create parodies, scenarios and sketches with the characters to tell a story, a joke, or a comedy routine of your own.
Here's a link to a video about the evolution of The Legend Of Zelda:
https://www.youtube.com/watch?v=1FwoEgUBgE0
We hope you find it inspiring.
So, with princesses to be rescued, and boomerangs at the ready, we're really 'Linking' forward to seeing what you all come up with!
We really love the way you're all so creative with these topics and look forward to seeing the Flipnotes you create for them.
Make sure to post your entries to the Weekly Topic channel Weekly Topic - Zelda The Video Game and the deadline for your entries is May 15th (12pm EST / 4pm GMT).
Also, we would encourage you to add a description to your Flipnotes. This is your opportunity to explain any points of interest and specific details that we could feature in the topic winner reviews.
And don't forget, if you want a cool thumbnail picture on your Flipnote, whichever frame you save the Flipnote on, that will become the thumbnail. So choose your favorite frame for this, or add in a cool title page at the end, and save on that.
Keep on Flipnoting and the best of luck with your entries.
Upcoming Topics
Topic - Breaking The Rules (May 15th)
Topic - Big Headed (May 22nd)
Topic - Flipnote Hatena (May 29th)
Topic - Pulling a Lever (June 5th)