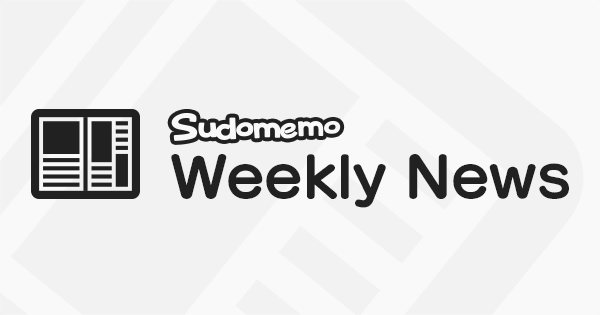 Hey there everyone, DeepRising here with the Weekly Newsletter and Weekly Topic competition.
We had a great response to last week's topic "Zelda - The Video Game", and a selection of our favorite winning entries are coming up.
But first, here's some other News.
Sudomemo Radio Episode 2
After the enormous success of Sudomemo Radio episode 1, the race is on for episode 2. Lets make it equally fantastic and huge fun to listen too.
Submissions for Episode 2 of Sudomemo Radio close at 11:59 PM eastern time on Wednesday the 18th.
We're so excited to hear what you all come up with.
Here's the link for your submissions for Sudomemo Radio Episode 2:
https://forms.gle/94bYUCvPxLZm3Kd4A
Let's all get broadcasting!
MusicMatch - Flipnote Search Update
Here's something new we know you'll love.
We've just added a Cool New Update where you can search for Flipnotes by song or musical artist.
It's up and running now. Just tap search, then MusicMatch, and away you go.
Here's a link to the MusicMatch Help Center Article:
Check it out for full details on how to use this service.
We really hope you enjoy it!
.
And finally, here's some birthday news.
Sudofox's Birthday
This week on Tuesday May 17th, it's Austin's Birthday.
And we just know he'd love to get loads of Birthday wishes and greetings from you all.
Let's fill up his comments on his special day.
Happy Birthday Austin.
.
Now, back to the topic.
If you're thinking about making a topic Flipnote, don't forget to check out next week's topic theme and its description, as well as the subsequent Upcoming Topics listed at the end of the Newsletter.
And here are the winning Flipnotes from last week's topic "Zelda - The Video Game". Well done to everybody who entered.
Our Favorite Flipnotes from last weeks Topic "Zelda - The Video Game"
Our first topic winning selection this week is this fantastic Legend of Zelda tribute MV, by Viveela☆.
Featuring many characters from the franchise in different styles from across the years, as well as lip-sync singing, action flashes and much more, it encapsulates the beloved game with both passion, and a great sense of musical presentation.
Rich with jewels, young Link goes shopping for a sword and a shield in this beautifully drawn and animated entry by Creaky.
Now he's fully ready to take on Hyrule.
But let's hope he doesn't miss that Smotherwing butterfly!
Inspired by the old Legend of Zelda cartoon, this winning entry by KingKnight showcases Links catchphrase in its most extreme form.
Both seriously sarcastic, and extremely hilarious, it's probably the biggest, longest, most continual "Well Excuuuuuuuuuuuuuuuuuuse Me Princess" in Flipnote history!
On this occasion, Link doesn't get away with his customary response, "Excuuuuse me Princess!"
For even after endangering, dispatching and enslaving civilians, he tries it on once again!
Only this time, he's cut short and imprisoned himself, in this trope challenging Flipnote by EmeraldKat.
"Lamp oil, rope, bombs!"
Link's back at Morshu's shop, in this winning topic entry by ⒷIⒷⒷⒶ.
However, unfortunately he's out of jewels.
Could this be a cue for a Random Morshu Event?
Or maybe it's time to leave. He does look pretty mad!
Check out these sprite-animations of Link from the Legend of Zelda Video game.
Creatively used to make this topic winner by Mizuka, with accompanying sound effects, they express the character's game actions wonderfully.
The story of The Legend Of Zelda - Gwonam is told in splendid, pictorial form, in this topic winning Flipnote by Glin.
We just love the magic carpet.
Go for it Link!
This Weeks Topic - "Breaking The Rules"
There are many rules and regulations. Some very sensible, and some seemingly rather petty and unfair!
With the stresses of modern life, we can all feel like breaking a few of them from time to time. But we usually think twice about it, as we might get into trouble.
This topic is all about the idea of breaking rules. Why, how, where, and by whom, is up to you!
Here's some examples of rules that can be broken to get you started:
Don't walk on the grass. No feeding the birds. Jacket and tie required (In restaurants). No littering. No queue jumping. No playing loud music after 7pm. No running in the corridor. No chewing gum in class. No talking without raising your hand.
Also, here are some incredibly bizarre rules we found from specific parts of the world. (Apparently, these are for real!):
No ice cream on cherry pie. No wrestling bears. No landing flying saucers. No eating fried chicken with a fork.
Feel free to use any of these for your ideas, or create even more outrageous ones.
We can't wait to see what you come up with for your animated rule breaking shenanigans!
We really love the way you're all so creative with these topics and look forward to seeing the Flipnotes you create for them.
Make sure to post your entries to the Weekly Topic channel Weekly Topic - Breaking The Rules and the deadline for your entries is May 22nd (12pm EST / 4pm GMT).
Also, we would encourage you to add a description to your Flipnotes. This is your opportunity to explain any points of interest and specific details that we could feature in the topic winner reviews.
And don't forget, if you want a cool thumbnail picture on your Flipnote, whichever frame you save the Flipnote on, that will become the thumbnail. So choose your favorite frame for this, or add in a cool title page at the end, and save on that.
Keep on Flipnoting and the best of luck with your entries.
Upcoming Topics
Topic - Big Headed (May 22nd)
Topic - Flipnote Hatena (May 29th)
Topic - Pulling a Lever (June 5th)
Topic - Rabbits (June 12th)