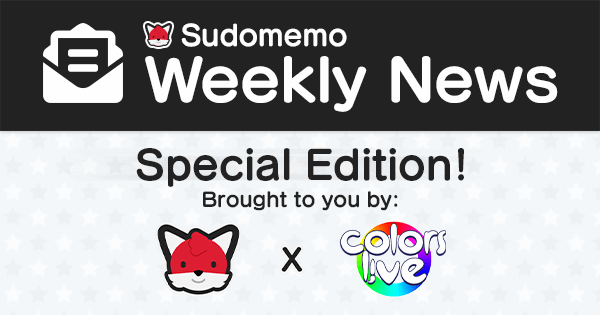 Hey there everyone, DeepRising here with the Weekly News and the results for our Weekly Topic competition. Don't forget to check out next week's topic theme and the subsequent Upcoming Topics, at the end of the article.
This week, instead of the advertised topic, we're taking part in an exciting joint venture with Colors! Live, site of creations made by artists using Colors! on all manner of platforms, most notably the Nintendo 3DS with Colors! 3D. The members of both Sudomemo and Colors! Live are invited to enter submissions for this new topic 'Into the Light'.
Sudomemo's entries will be animated Flipnotes made in Flipnote Studio and entered into Sudomemo's Weekly Topic as usual. And Colors! Live's will be pieces of digital artwork, created in Colors! and entered via the Colors! Gallery website.
We will be choosing three winners only for this topic. You are welcome to enter on both services if you'd like. Each Sudomemo winner will receive the fantastic prize of a 'Sudomemo Crossover Badge' shown on Colors! Live, in addition to early access to the Colors! Live Beta for Windows, and have an active voice in the development of Colors Live itself!
The winning submission for the Colors! side of the contest will receive a special ticket for free Sudomemo Stars, Sudomemo Plus, a special trophy on Sudomemo, a feature in our next Weekly News and on our social media outlets.
If you haven't tried Colors! before, you can use it on the Nintendo 3DS:
https://www.nintendo.com/games/detail/colors-3d-3ds/
Colors! is also available on iPhone/iPad, Android, and the PS Vita.
Exclusive Interview with Jens - The Creator of Colors Live
Don't miss our exclusive interview with Jens Andersson, the creator of Colors!, coming later this week with a behind-the-scenes look on the development of the app, the community, and details on the Colors! SonarPen, a pressure-sensitive pen for the Nintendo Switch that will come bundled with Colors Live (release date TBD).
The interview will go live this Wednesday. In the meantime, you can check out the Kickstarter campaign here:
https://www.kickstarter.com/projects/colorslive/paint-on-switch?ref=4oyei7
This Weeks Topic - "Into The Light"
And now for the details on Into The Light.
'Into the Light' could be interpreted in many different ways. It could be someone, or something emerging from the shadows or darkness, and out into the light.
It could also be going into a light source, like sun rays, dappled shadows, or even a divine light.
You'll have any number of possibilities to use for your light source, whether it's natural or artificial. For example; the sun, the moon, lightning or flames. Or you could use an indoor light as your source, or even a torch!
The effects from different lighting conditions could be a really interesting challenge to visualise!
You should feel free to experiment with creating lighting in any way you like, using the Flipnote tools, or the DSi camera. Why not try soft light, harsh light, rays of light, or even multiple sources of light if you like a challenge. And there could be secondary effects to play around with too, like shimmering, shining, glowing and lens flaring, to add to the sense of illumination.
We can't wait to see the light in your Flipnotes, and look forward to your submissions.
Make sure to post your entries to the Weekly Topic channel Joint Weekly Topic - Into the Light and the deadline for your entries is Sunday, June 7th (12pm EST / 4pm GMT)
Keep on Flipnoting and the best of luck with your entries.
And now, here are the winning Flipnotes from last week's topic "Graffiti". Well done to everybody who entered.
PS. If you've got entries ready for the 'Hiccups' Topic, don't worry, as we'll be returning to this topic next week.
Our Favorite Flipnotes from last weeks Topic "Graffiti"
In this dynamic action sequence, by MⓁ✕2019, a series of colourful characters create graffiti art in a public place, each one on top of the other.
The end result, being somewhat less than some of its parts. But what a great idea, for a brilliant Flipnote.
We loved this self perpetuating graffiti Stickman, in our next selection, by Mittens.
He draws himself, drawing himself, drawing himself!
A classic cycling Flipnote concept. Nice one!
Messi_Big has designed an excellent graffiti tag for this entry.
We enjoyed the patterning and shading work, as well as the creative lettering.
[unknown]
A graffiti artist character and their can of spray paint, come together in this energetic animation, by Feenie.
[unknown]
A graffiti tag gradually develops with progressive pass by sprayings, in this nicely animated entry, by nico.
The dashing figure with his can of spray paint, is great fun and works well with creating the sense of build up and alteration in the graffiti art.
This entry by Dynno UwU, features animated spray paint as a graffiti logo is made. That's some serious aerosol skills right there!
[unknown]
Upcoming Topics
Topic - The Hiccups - (June 7th)
Topic - Quarantine Hobbies (June 14th)
Topic - Flipnote Classics (June 21st)
Topic - Patience (June 28th)