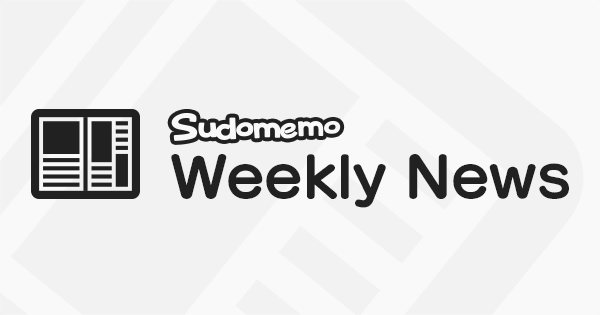 Hey there everyone, DeepRising here with the Weekly Newsletter and Weekly Topic competition.
We had a great response to last week's topic Rolling, and a selection of our favorite winning entries are coming up.
But first, if you're thinking about making a topic Flipnote, don't forget to check out next week's topic theme and it's description, as well as the subsequent Upcoming Topics listed at the end of the Newsletter.
Also, don't miss the links in the topic description for inspiration and further information on the theme (Access these links through the Sudomemo Theatre online site).
And now, here are the winning Flipnotes from last week's topic "Rolling". Well done to everybody who entered.
Our Favorite Flipnotes from last weeks Topic "Rolling"
Our first topic winner this week, by RETROMAN, features a spectacular array of different types of rolling.
With beautifully punctuated, and realistic animation, the Flipnote includes; rolling over humps, a keyboard roll, a rolling pin, and even a steam-roller, flattening a rolling pin!
That last one really made us laugh!
What an absolute visual, rolling feast!
Hiashi expertly demonstrates a flawless Kirby Roll, in our next Winning Weekly Topic Flipnote.
We were very impressed with this highly effective, animated, rolling technique, achieved by moving features, across a drawn circle.
Also, the addition of a hi-light, a shadow, and the use of perspective, brings out the three dimensional quality even more.
Next, it's the turn of PacMan, to show how he rolls, in this Winning Weekly Topic entry, by Zackxx129.
Based on the game Pac 'n Roll, he scoots around under stylus control, whizzing up ramps to collect cherries, and bumping into boxes, with faultless, hand drawn animated physics.
Great job Zack!
This Winning Weekly Topic entry, by mega manoy, experiments with how a geometric shape would roll.
With the use of hand drawn, expressive animation, a smiley faced cuboid gets knocked about left, right, and center, with hilarious results.
Poor chap, he looks terribly out of breath!
Our next Winning Flipnote, by barkgaming, interprets the topic in a most creative, and unusual way.
Much to the surprise of onlookers, a mysterious silhouetted shape rolls back and forth across the screen, Ya-hooing as it goes.
Whatever it is, let's hope it doesn't end up in that dynamite factory!
Whoops! Everyone duck for cover!
Nothing says "Rolling" like the classic game of Monkey Ball!
But with a different driver, this profile character has a bit of a rough ride, in this Winning Topic entry by thanekogun.
This car is really revving it up!
Watch, as its wheel spins with a blur of speed, in this very nicely done, cycling Flipnote by Weekly Topic Winner yusu😃.
An OC's attempt at a somersault, ends up as a disastrous forward roll, in this chucklesome entry, by User.
Then, to add insult to injury, the Flipnote budget even runs out, and it has to be finished on a shoestring!
What a cool mix of creative ideas, and very nicely animated too.
We love it!
This Weeks Topic - "Pokemon"
Pokémon, originally known as Pocket Monsters, are fictional creatures, which humans can train to do battle with one another for sport.
Varying hugely in their highly creative designs, they have featured on trading cards, and in many computer games, a hit TV series, movies, books, comics, and as toys, as well as even having their own theme park!
Your Flipnotes could feature any of your favorite Pokémon characters, as drawings or animation.
Or, how about one that you've designed yourself?
They could be doing battle with each other, in a Verses match, or in any other scenario of your choosing.
Or, why not mix them with media, like movies, cartoons, or your own OCs (Original Characters).
For an exciting Flipnote, give it some sound.
If you want to use the classic Pokémon soundtrack, checkout the link below:
Pokémon - music (anime series) https://www.youtube.com/watch?v=LCNHc12volU
Or make your own sound effects, do voice acting dialogue, use music, whatever you like for a great effect.
So, post us a Pokémon Flipnote this week, because we've Gotta Catch 'Em All!
We really love the way you're all so creative with these topics and look forward to seeing the Flipnotes you create for them.
Make sure to post your entries to the Weekly Topic channel Weekly Topic - Pokemon and the deadline for your entries is July 25th (12pm EST / 4pm GMT).
Also, we would encourage you to add a description to your Flipnotes. This is your opportunity to explain any points of interest and specific details that we could feature in the topic winner reviews.
And don't forget, if you want a cool thumbnail picture on your Flipnote, whichever frame you save the Flipnote on, that will become the thumbnail. So choose your favorite frame for this, or add in a cool title page at the end, and save on that.
Keep on Flipnoting and the best of luck with your entries.
Upcoming Topics
Topic - Massive (July 25th)
Topic - Bats (August 1st)
Topic - Stick Men (August 8th)
Topic - Sewing (August 15th)