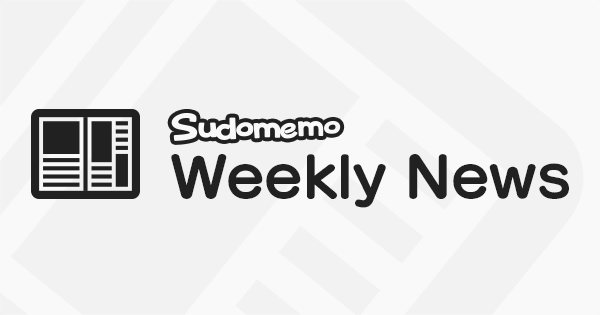 Hello, this is User from the Sudomemo staff, with the first edition of the *new* Sudomemo Weekly News!
A few of you may remember that we tried to do weekly competitions in April 2014, however at the time there were only 3000 users on Sudomemo, so there weren't many entries. Since then, the Sudomemo community has grown to nearly 22000 individual DSi consoles!
It's amazing to see how much the community has grown, and as a result, we decided that it was time to bring back the Sudomemo Weekly News. In this edition, we'd like to introduce Weekly Topics, and we also have some new features and themes to announce! c:
★ Introducing Weekly Topics
Every week we're going to introduce a new Weekly Topic for you to create Flipnotes about. How you interpret the topic is entirely up to you, so we look forward to seeing some creative and unique Flipnotes. (: The following week, we will feature some of the best entries for all to enjoy -- there will also be some small prizes available!
★ Weekly Topic - "Backwards"
We thought that "Backwards" would be a fun topic to start things off with, perhaps you could make a Flipnote about a backwards conversation, or someone walking backwards... you could even try to animate a Flipnote in reverse. Whatever you can think of!
Please post your entries to the Weekly Topic - Backwards channel; you can also find the Weekly Topic channels in category #8, on the DSi 'Channels' menu.
Your entry it will be considered so long as it is related to the topic in some way, however, please note that your entry must follow the rules of Sudomemo as usual.
This topic has now been closed. Thank you to everyone who entered! You can view our favorite entries here: January 8th, 2016 - Sudomemo Weekly News
★ New Features and Updates
We're excited to finally announce some more features that we've been working on. We hope that you enjoy them!
1) Creator's Room changes We've made a few small modifications to the Creator's Room layout, so that the information and links are easier to see.
2) Favorite Channels You can now add channels to a 'favorite channels' list, which is accessible from your Creator's Room. We hope that this makes it easier for you to keep track of the channels that you enjoy the most!
3) Star Details Now it is possible to view a list of all the users who added stars to a Flipnote! We had a lot of requests for this feature, so we hope it's helpful. If you're on a DSi, simply tap the star counter on a Flipnote's 'details' page to access the 'star details' page.
We've also made a couple of fixes:
- Some people had added yellow stars to Flipnotes without having Sudomemo accounts, due to an old bug when stars were first introduced. We had to remove the stars that they added because they would have caused the new 'star details' page to break. We're sorry for any confusion or upset this may have caused.
- A number of users were unable to access their Creator's Room this week. We found that the problem was caused by themes not loading properly, causing a 340404 error. This issue has now been fixed by Sudofox.
★ New Themes
Vee, mercury and User have made some new themes for your Creator's Rooms, they are available from the Theme Store, for 5 green ★ each!
As you can see, we've been quite busy! There may not be any new features for a little while as we need to work on improving some of Sudomemo's internal systems, but we have plenty of things planned for the future. (:
On behalf of all the Sudomemo staff, thank you for reading! We hope you have a great week!
If you have any suggestions, comments or questions, then please contact us via our email adress: support@sudomemo.net